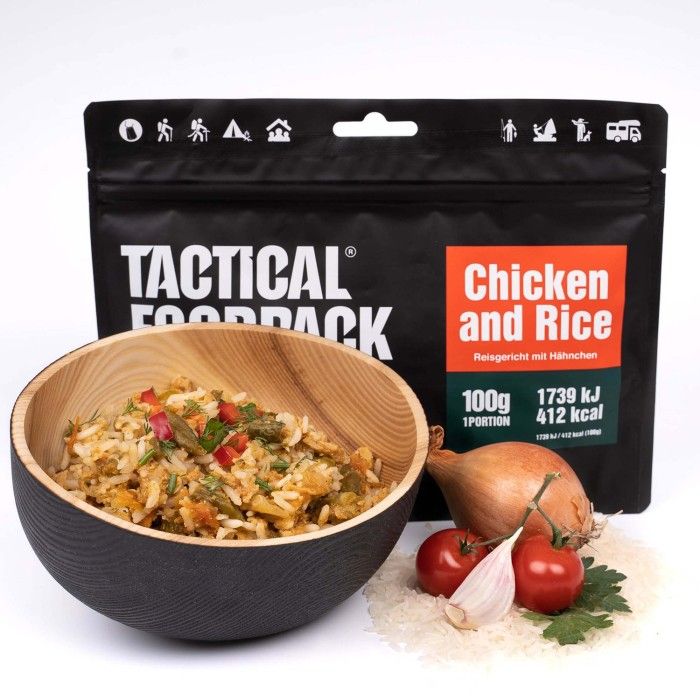 Chicken and Rice | Tactical Foodpack
Slightly spicy rice dish with chicken, contains also natural chicken broth. 100% natural, without preservatives and additives. 
Ingredients:
Rice (35%), chicken (15%), red pepper, beans, onions, tomatoes, rapeseed oil, garlic, parsley, salt, cayenne pepper. May contain traces of celery, milk and mustard.
- 100g
Preparation: The meal is prepared very quickly even in difficult conditions. Remove the upper part of the Tactical Foodpack bag and remove the oxygen absorber, add 300 ml of water heated to 70 - 100 °C, then mix the contents and close the bag for 9 minutes. If you do not have the option of heating water, you can use cold water, stir and wait twice as long before starting the meal. After the elapsed time, the meal will be ready! You can eat directly from the bag, as its special shape is designed for this purpose. The dish can also be prepared over an open fire - pour cold water into the bag, stir and place it over the fire for a few minutes.
in the same category
Regular price
€6.97
-10%
Price
€6.27
Customers who bought this product also bought: