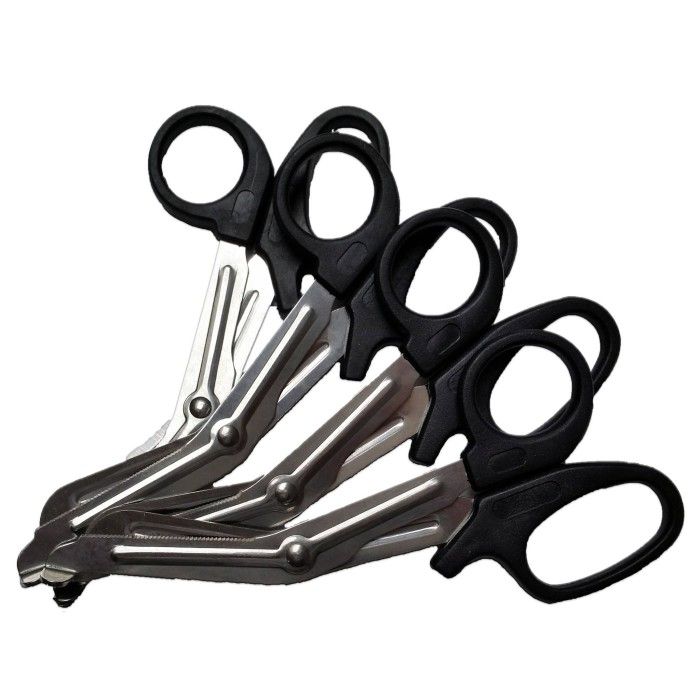 Trauma Shears II
Smaller and lighter shears for quick and safe removal of clothes from casualties.
Only in black color. Compared to Trauma shears I, these are lighter and smaller but sharp as any other. 
Designed exclusively for external use and are not suitable for surgical or invasive procedures. Their rugged construction enables them to cut through strong materials such as car seat belts, leather, and denim.
The wide, blunt tip on the shears is designed to slide across skin, minimizing the risk of injuring the patient while cutting clothing.
Used by fishermen, soldiers and scuba divers as safer alternatives to knives.
Width: 19 cm or 7,4 inch
Height: 9 cm or 3,5 inch
Weight: 7 g or 0,24 ounce
Quick Compare
Product

Trauma Shears II
TQ holder
Israeli Bandage | Large 6"
Medical Pouch

Price

Rating

Description

Smaller and lighter shears for quick and safe removal of clothes from casualties.

Elastic tourniquet holder for molle gear

6" bandage designed to stop bleeding from hemorrhagic wounds 

Pouch for medical supplies. 

Comes in Coyote Brown, Black and Olive Drab colour. 

No features to compare

Availability