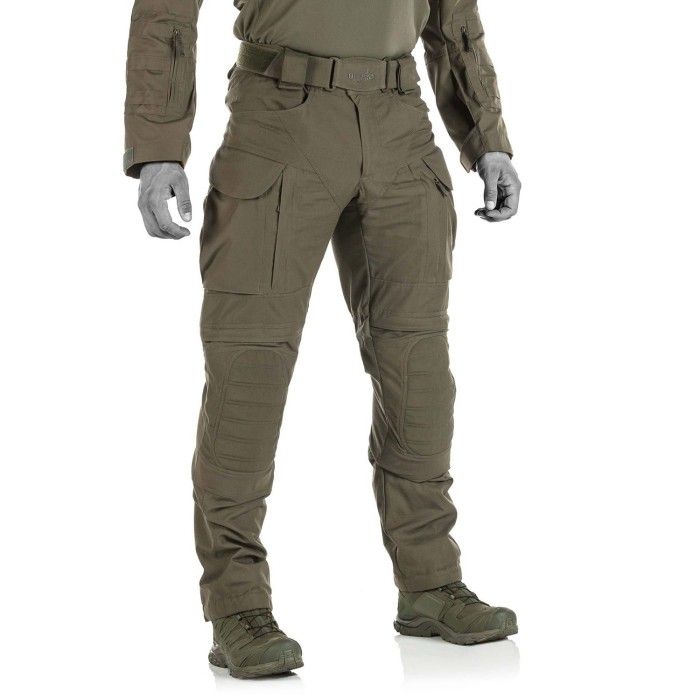 UF PRO® Combat Pants | Striker ULT
Extremely lightweight combat pants designed for ultimate performance in hot and temperate climates.
- incredible fit at the waist - thanks to new Waist/Flec system that connects the pants to your waist and comfortably keeps them there - meaning no drooping or annoying folds even when fully loaded with gear
- the Waist/Flex system includes side stretch-inserts, made of Schoeller stretch fabric, that adapt to the width of your hips for a perfect fit when you move, kneel, or sit
- breathable 3D lower back pad hugs the curvature of your lower back and fills the gap between your body and the pants waistline
- the Striker ULT comes with its own underbelt, delivering maximum comfort and perfect fit every time
- a stiff reinforced buckle keeps clips optimally positioned straight up and down so they can't turn sideways. To prevent the buckle itself from shifting upward, an inside cutout connects with the Canadian button above the zipper
- battle proven triple layer knee protection system is built right into Striker ULT Combat Pants - you can wear the pants without any knee pads at all. The width of the knees adjusts, permitting you to finely calibrate the pants to the shape of your body
- for cooling airflow - pants are designed with vents in the side pockets and mesh in the hand pockets, there are also openable vents in the lower sections of each leg
- oversized side pockets with interior bungee cords and elastic bands. Pockets have a sealable flap secured with Canadian rubber buttons. The side pockets also have a vertical zipper that makes it convenient to retrieve gear even while you're kneeling. And if you prefer pocket closures of Velcro rather than buttons, the pants come with a kit that lets you easily swap one for the other.
- affixed to the bottom of each leg are boot hooks
in the same category
Regular price
€45.00
-30%
Price
€31.50
Helikon-Tex
Customers who bought this product also bought: