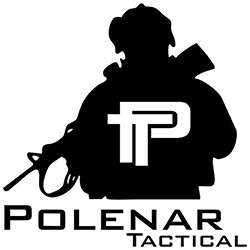 View all products of Polenar Tactical
AR Specialist T-shirt
T-shirt with AR Specialist design on the back and PT logo on the front. 
This t-shirt features an AR Specialist design which is modeled after a modified AR rifle with railed handguard, vertical grip, flashlight illuminator, silencer and aimpoint sight with a magnifier. There is a standard Polenar Tactical logo on the front left side.
Our t-shirt makes your look good and grants your rifle 42 damage, 38 stealth and +5 experience*
We use premium Sol's Imperial t-shirts made from 100% semi-combed cotton which makes them durable. It has a ribbed collar made with elastane which makes it comfortable to wear. The design is applied with a special procedure of screen printing that makes it look sharp and smooth without compromising the quality. 
Our t-shirts are unisex and slim-fit. If you like loose t-shirts or need extra length for CCW you can order one size larger. 
We advise everyone to double check the size chart before ordering. 




*a totally made up statistic  
Data sheet
Compositions

Cotton
Specific References
UPC

00
Product Comments
No customer reviews for the moment.